Welcome to Sova Healthcare
Healthcare With You In Mind
We strive to provide what we believe to be a fresh, modern and compassionate approach to home care, domiciliary care, health care and assisted living.
Choosing the right home care services can be a challenging process. We understand that the prospect of having someone new in your life is a big change, which is why our professional healthcare agency will always find the right person for you.
We go the extra mile to ensure that our staff's expertise matches their character and values. Our home care services go beyond a list of robotic tasks and physical assistance, enabling you to build trust and a beautiful friendship with your care-giver.
Our goal is to assign care-givers who can provide the same level of care they would to their own family. We understand that no one wants to be cared for by somebody new every week. Our team takes extra steps to ensure you only have a select few carers who are all specialised in the field that is relevant to your needs.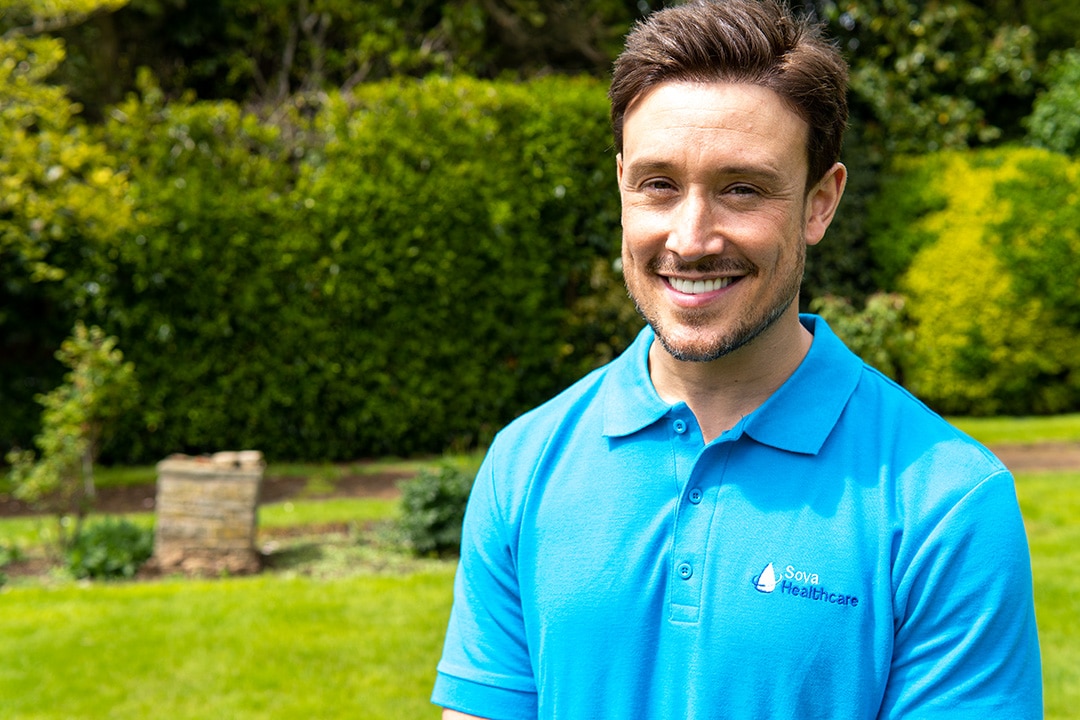 Everybody is different and has different requirements, which is why our assisted living, home care services and especially Dementia and Alzheimer's care services are always tailored to each individual. We like to begin with an assessment of your particular needs. If you decide to choose us as your home care provider we will arrange to have a member of staff come to visit you and discuss your needs and situation with you and your family. Together we will organise and set up your own personalised support plan, covering every area that you feel you require support with. This support process will always remain flexible and, if your situation changes at any time, the support plan can be adapted and your care increased or decreased.
Home Care & Domiciliary Care Services
Sova Healthcare specialises in private homecare & specialist care services. We strive to provide what we believe to be a fresh, modern and compassionate approach to home care, domiciliary care and assisted living. With offices throughout the UK, in Birmingham, Leicester, Bradford, Redbridge, Halifax and Harrogate our understanding, highly trained and passionate team of staff can now deliver the most attentional home care services and domiciliary care to all clients throughout the UK. We are also very proud to offer a financial support service that is not readily available with many other care providers. For more information on this please see our Appointeeship Programme page and find out how Sova Healthcare can help you.
What Home Care Services Do We Provide?
Our principles and values put you right at the centre. We believe that everybody, regardless of age, gender, disability or illness, should have the best possible quality of life, and we make it our duty to provide this through our compassionate, respectful, professional and flexible home care service. We offer a range of different domiciliary and live in care services, as well as specialist care services such as Alzheimer's, Dementia care, Hospital to Home and night care services for elderly people, all of which are adaptable to individual needs and wishes, ensuring that all our clients receive the first-class health care they deserve.
We also believe in the importance of retaining independence whilst receiving assisted living support. One of the greatest benefits of live-in care is that you can receive support from the comfort of your own home. This not only means you are surrounded by a familiar and relaxed environment, it also allows you the opportunity of increased independence. At Sova Healthcare we feel that this is an incredibly important and vital part of retaining quality of life no matter your circumstances. Regardless of what type of home care service you need, our carers will encourage you to make your own decisions, perform the tasks you are physically able to do, and take control of your own care. We believe that this freedom will help you live the life you want to live, whilst helping us keep you healthy and safe.
Why Choose
Sova Healthcare
As A Home Care Provider
Sova Healthcare offers a wide range of flexible home care and live in care services, allowing your loved one to receive support from the comfort of their own home. Here is how Sova Healthcare can be of an assistance;
We will organise and set up a personalised support plan, covering every area that you feel you and your loved one require support with.
As one of the few care providers in the UK, we offer financial support with our Appointeeship programme to help those with financial affairs if it becomes a struggle.
Our carers are fully trained and qualified, ensuring that all of our clients are guaranteed to receive high quality care, tailored to them.