With Ilford, Wanstead, and Woodford being within its borders, Redbridge continues to evolve and thrive, thus placing a demand for social care.
Sova Healthcare ®
40 Mafeking Avenue,
Ilford, Essex
IG2 7AP
As leading providers of home and specialist care services throughout the UK, we are an experienced team that provide a range of tailored services of dignity, safety and respect to all of our clients.
Sova Healthcare opened a branch in 2014. We have since built a renowned reputation across the country. We have opened a fifth office in Redbridge, one of East London's most vibrant boroughs.
We're passionate about meeting the needs of our clientele, which is why our home care services are tailored to match even the most specific needs. We believe that it is everyone's right to have access to quality care at home, we continue to deliver high-quality care across the Redbridge area through our at-home care solutions. Our friendly and safe 24 hour home care, complex care and specialist care services for Dementia and Alzheimer's patients all mean that you can access private care services and without leaving your family home.
Our process will initially start off with a health assessment, which will help us evaluate your needs and determine the best care plan to suit your condition, lifestyle and personal circumstances. We understand that each individual is different, so our qualified caregivers and specialists will answer any questions you might have and will fully support you throughout the process, even if your circumstances change.
Sova Healthcare provides 24 hour home care services to those around the Redbridge area. Our live-in care services allow us to ensure you maintain a high quality of life, all from the comfort of your own home.

Following the initial assessment, we'll match the right carer based on your personal interests, lifestyle and needs. We understand that having someone new in your home may feel strange, so we always ensure to recruit fully vetted care professionals who can easily deliver to the standards you or your loved ones expect.

Our live-in care services are unique precisely because they have a foundation of friendship, companionship and respect. Whether you just want to relax at Valentine's Park or enjoy a scenic walk around the Fairlop Water Grounds, Sova Healthcare has the right carer to help with everything you need.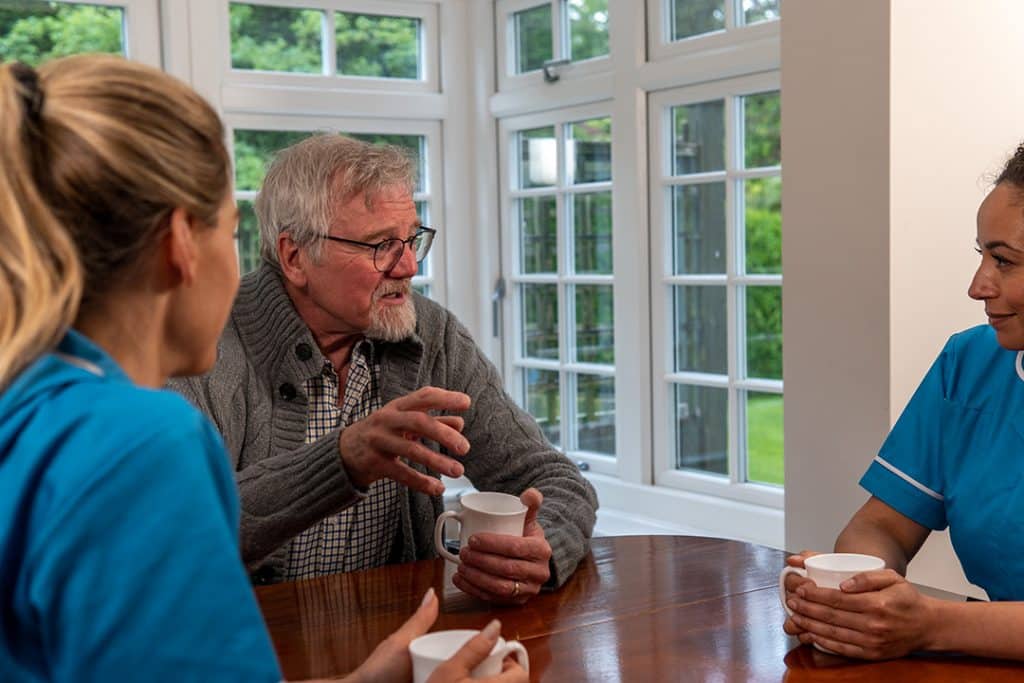 Domiciliary Care Services in Redbridge
Our domiciliary care services provide you with the necessary support you need to cope with an illness or disability. Unlike live-in care, which entails round-the-clock assistance, domiciliary care focuses on helping people with everyday tasks that they may struggle with.

Whether it's cooking meals, bathing, dressing, housekeeping or simply overnight support, our experienced carers are fully trained and equipped to deliver bespoke domiciliary care services for those based in Redbridge or the surrounding areas. This service aims to improve your independence as much as possible with dignity, whilst having someone there to ease your stress and worries.
At-Home Dementia and Alzheimer's Care Services
As leading Alzheimer's and Dementia care specialists, we know how important it is to have a professional carer preventing and managing any unforeseen events that come with the disease.

As one of the top care agencies in East London, we ensure that those affected remain in their own homes to stimulate their confidence and memory. We've tailored our specialist care services to gain a comprehensive view of how these illnesses affect the quality of life and to provide a compassionate and effective care plan.
Our Redbridge Home Care Services
Our Redbridge Specialist Care Services