Since we know how important it is to get a good night's sleep, at Sova Healthcare, we can provide you with flexible at-home night care services that are tailored to your needs.
What Are Night Care Services?
Those of us who are more vulnerable will find that it is even more vital to get these daily hours of rest in order to make the most of the time spent awake. When faced with disability or illness such as Alzheimer's or Dementia, a wakeful or restless night can lead to a compromised immune system and result in the need for further care during the day.

At Sova Healthcare we encourage our clients to retain their independence and to live their lives to the fullest. This would not be a possibility if they didn't get the sleep they require. We offer two types of overnight home care services: Waking Night Care and Sleeping Night Care.

Our night care services are always flexible as it is of paramount importance to us that you are happy with the support you receive. Therefore, your personal night support plan will be arranged completely around you and your particular situation. The Waking Night Care or the Sleeping Night Care Services can be added to a larger Domiciliary Home Care support plan and the roles your night carer takes on can be organised to suit your individual needs.
Waking Night Care Services
Waking up during the night can be frightening and disorientating. If you require frequent attention throughout the night, Sova Healthcare can provide you with Waking Night Care Services. This involves having an experienced and highly trained carer staying at home with you during the course of the night usually beginning their shift late evening and finishing midway through the morning. The exact times can be arranged to a time convenient to you and that you chose. Your carer would stay awake through the course of the night and be at hand for when you wake and require their assistance or care services.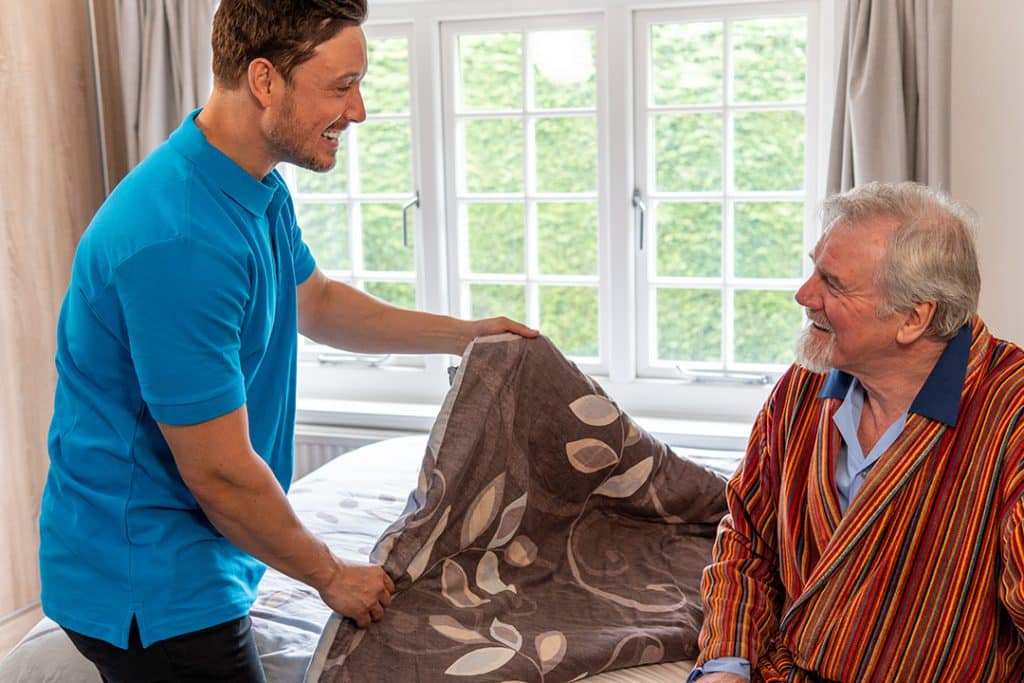 The night care, alongside other home care services would be well suited if you require support at regular intervals. This could include going to the toilet or helping you change position in bed. While you are sleeping, your carer would be free to deal with domestic tasks and other house chores in your home such as cleaning, laundry and vacuuming. They could also prepare you a breakfast for when you wake or deal with medical preparations for the morning. We understand that having to deal with interrupted nights can hinder your resting time and cause you strain, so we will do our utmost to deliver our night care services and support as smoothly as possible.
Sleeping Night Care Services
If you do not require much care during the night, but still feel rather uncomfortable or unsafe spending the night alone in your home, our night care services can also include sleeping support. Your carer can stay with you in your home throughout the night, sleeping in a nearby bedroom and provide you with help and complementary domiciliary care services whenever needed. Anxieties about feeling unsafe alone can lead to sleep deprivation. Sometimes, all you need is knowing that somebody is close by in order to put your mind at ease and be able to sleep soundly. 
Our night care support plan will give you the option of calling on your carer up to two times. If you find that you need their assistance more often, we can upgrade your plan to the Waking Night Care Services, allowing us to offer you more support and one-on-one time. Alternatively, for round-the-clock assistance, you can opt for our live in care services. Our support plans are very flexible: if your night care services needs vary, we can tailor the care you receive to suit your requirements. All of your personal care wishes will be taken into account during our individualised needs assessment process.

Your nights will undoubtedly affect your days, which is why receiving the right night care services is essential for you to live your life to the fullest, regardless of your disability or condition. At Sova Healthcare, your wellbeing is our top priority and we understand the value of having a good night's sleep every single night.
Why Choose
Sova Healthcare
As A Home Care Provider
Sova Healthcare is widely recognised as one of the top domiciliary care agencies in the UK. With branches in Leicester, Bradford, Harrogate, Birmingham, Halifax and Redbridge, we have continued to expand our health and social care services, to help those suffering from complex illnesses or learning disabilities live a comfortable life.
All of our home care services are regulated by the Care Quality Commission and run by registered managers who ensure our domiciliary care meets and exceeds the required standards.