Home Care Services Leicester
Sova Healthcare opened a branch in 2014 offering help at home in Leicester. Our highly trained carers support and enable our elderly clients with flexible care, live-in care and home care services in Leicester and the surrounding areas.
Sova Healthcare ®
Leicester Business Centre, 111 Ross Walk,
Leicester
LE4 5HH
Home Care Services in Leicester
We have built a renowned reputation across the region and we pride ourselves on providing home care services in Leicester that go above and beyond our clients' expectations.
Sova Healthcare offers a variety of tailored help at home in Leicester and surrounding areas to meet the individual needs of our clients. Once an initial care assessment process has taken place, our vastly trained carers and specialists will discuss personal requirements and evaluate needs. Sova aims to support you to the fullest when determining which home care service you or your loved one require which is why we'll answer any questions you might have regarding the process. We understand that our clients want to remain as independent as possible within their home, so we take on a flexible approach to ensure we can still support you if your circumstances change.
We offer an extensive range of home care services in Leicester and surrounding areas, which include Dementia & Alzheimer's care services, domiciliary care services, private live-in care services and 24h home care services for those who require round-the-clock help. Because we always strive to put our clients first, we also provide complex care services for children or adults who have degenerative conditions or physical and learning disabilities and need help at home in Leicester and the surround areas.
Live In Care Services Leicester
Our live in care services in Leicester provide our patients with exactly what you'd expect: the introduction of someone who will provide round-the-clock home care services and support when it's needed. It may seem daunting to introduce someone new to your loved one's home at first, but we ensure we place the right carer based on interests, personality and care needs. We only recruit qualified individuals that have the necessary skills, knowledge and experience to provide the high-quality home care services we take so much pride in.
Whether they enjoy watching Leicester City or Leicester Tigers at the weekend or love to discuss history, we take the time to perfectly match our carers to suit your requirements for your live in care services. The importance of our live-in elderly care is to ensure that the highest quality of home care services in Leicester are provided, but also mutual respect and friendship is built between the individual and carer.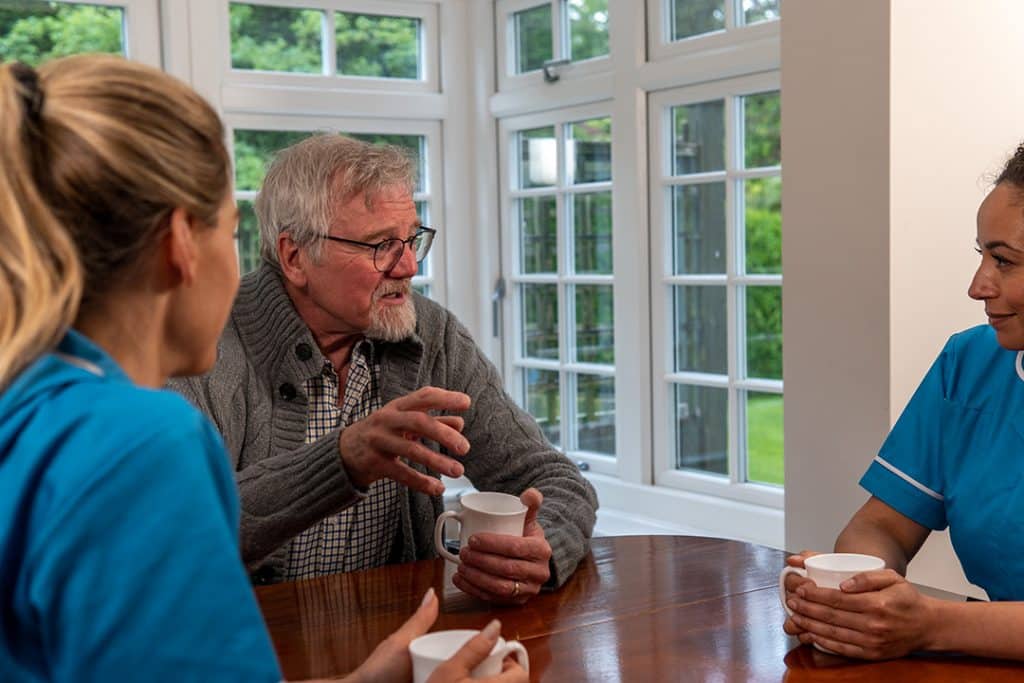 Supportive Domiciliary Care Services and Help at Home in Leicester
Also known as home care, our domiciliary care services in Leicester puts the individual at the heart of the care provided. This allows your loved one to make the best decisions regarding their wellbeing. If we only pop in once or twice a day, the person can still live independently knowing that a helping hand is also there when required.
We also offer palliative care for those adults and children who have been diagnosed with life-threatening or terminal illnesses. As it's such a personal part of our domiciliary care service, we ensure the right care network is in place to give the best quality of life possible for the individual.
At Home Care Services in Leicester For Those Living With Dementia
If your loved one has recently been diagnosed with dementia or is going through the later stages and requires constant supervision, Sova Healthcare can help. We realise that each patient is different, so our compassionate team is always ready to tackle any unforeseen challenges that the disease may present. As a leading specialists in dementia home care, we know that providing consistently empathetic care to those living with dementia improves their quality of life and helps those around them better cope with the consequences of the disease. We also understand how important it is for dementia patients to be in their own home, which is why we'll take all the necessary measures to ensure normality is preserved as much as possible.
Companionship & Home Care Services Leicester
Older people shouldn't have to feel restricted to their home and our care team can support in various ways. From providing support for meeting appointments to washing the dishes, our team can create a flexible care plan to match the requirements of the individual.

Social care is also just as important to our service users as simply having someone around for company can make a huge difference later in life. Our carers are some of the most chatty and enthusiastic people you'll ever meet and are perfect for companionship for the elderly. We strive to ensure that you maintain optimal levels of leisure activities, exercise and more.
Our Help at Home Leicester Services
Our Specialist Care Services Leicester
Health Screening Leicester
Sova Healthcare also offers a complete Health Screening Assessments to all ages which enables us to identify and treat any underlying conditions in their early stage. Our goal is to ensure the risk of heart disease, diabetes and other health problems is minimised, and that any underlying conditions are identified early.
We are one of the few providers of home care services in Leicester to offer financial help to our customers through our appointeeship programme. For more information on funding options, click here.
As well as providing home care services in Leicester, we also have offices based in Birmingham and Bradford as well as Leicester, to ensure our vital care services are across the UK.
To learn more about our personalised specialist care services in Leicester and further discuss your needs and requirements, please get in touch with us today by completing the form above.