Dementia is a cruel illness that can potentially affect anyone but is particularly common in older people. This condition requires them to seek specialist care services, to help support and assist them in their everyday life.
Dementia Care Specialists
Sova Healthcare can provide dementia care at home for a loved one. By opting for dementia care in your own home, it ensures your loved one can stay in a place that is familiar to them. Our dementia care specialists understand the complexities involved when taking care of someone with dementia and can provide the highest quality of care. At Sova Healthcare, we ensure your loved one gets the specialist dementia care they need while remaining independent.
Dementia is not a disease in itself, but instead refers to various brain disorders which have the similarity of affecting brain function, causing specific symptoms. These include memory issues, disorientation, confusion and isolation. Due to this cognitive impact, dementia and its symptoms incur a number of challenges for those who suffer from it, especially when carrying everyday dasks.
Dementia encompasses over 100 different types of illnesses, one of the common being Alzheimer's disease. Alzheimer's accounts for approximately ⅔ of all Dementia cases and has more specific symptoms.

Early stages of Dementia are most often harder to diagnose. As symptoms can only be very mild, this type of illness progresses to eventually become considerably more severe and flagrant. At this point, specialist care for those diagnosed with dementia will have to be provided, in order to support them throughout their everyday routine and tasks.

Since dementia is an age-associated illness, most cases are developed by elderly people, with risk of suffering from Dementia increasing with age. carry out simple tasks. The symptoms usually develop slowly and become more severe and challenging over time. Alzheimer's disease is the most common cause of dementia and it often affects people aged 65 and older.
Symptoms of Dementia: How to recognise them?
Being aware of symptoms of Dementia could help diagnose the illness at an early stage, ensuring the person affected receives the adequate specialist care..
Early symptoms could include the following:
Declining memory
Issues with language and communicating
Inability to perform regular everyday tasks
Disorientation and poor judgement of surroundings
Trouble concentrating
Short-term memory loss
Mood swings
Isolation and passiveness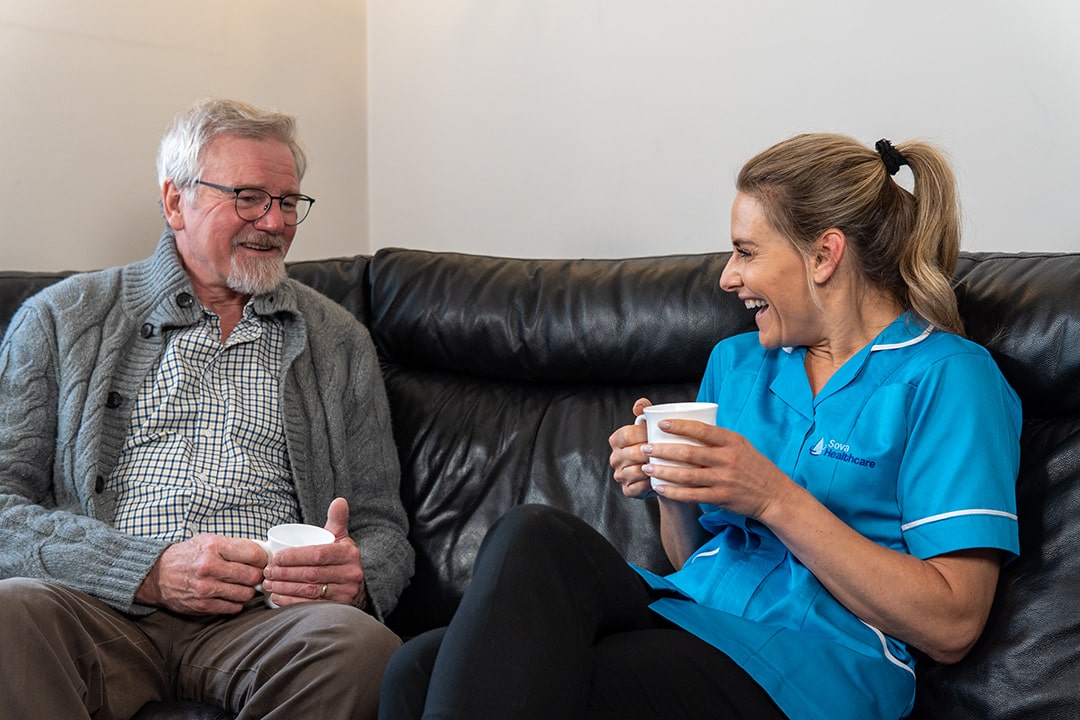 How To Help Someone With Dementia
Every single Dementia case is unique, however, for the vast majority of cases, it is essential to offer sensitive and compassionate support to people with dementia. This includes bespoke help with dementia care to encourage independence and self-confidence.

Caring for dementia patients at home also entails making sure their physical health and diet are carefully managed.
A healthy and nutritious diet combined with regular exercise such as walking, will help preserve physical independence. At the same time, it will participate towards fighting depression and improving life quality and expectancy.

Over the years, research have proven and strongly suggested that the following activities can help stimulate brain functions and comfort people affected by Dementia:
Asking simple questions to trigger memory and decision-making
Direct face to face communication and interaction to stimulate social, language and concentration skills
Regular encouragement, and acknowledgement of positive action will help preserve their self-confidence and therefore independence
Reminiscing memories and the past to engage long-term memory and happy life events and encourage interaction and discussion
At present, there is no such thing as a specific cure for Dementia. However, scientific research is making constant progress towards improving available treatments and hopefully one day finding a cure or preventive therapy.

If diagnosed early, sufferers of Dementia can get an appropriate dementia care plan, making it as easy as possible to live with this illness.

Forms and symptoms of Dementia vary depending on individuals. Every treatment should be designed and delivered on an individual basis and in line with personal symptoms, needs and requirements.
Bespoke Care For Dementia Patients
At Sova Healthcare, we understand that Dementia can affect memory, confidence and independence. That is why home care for dementia patients is so important.

We strive to constantly improve, adapt and perfect our specialist care services to enable our clients to remain in their own house, within familiar environments. This helps them stimulate their memory, whilst also enhancing their confidence and independence. Here are some reasons why you might want to choose home care over residential care homes:
Surroundings
Funding
Attention
Lifestyle
Food
All of these are thoroughly explained in our blog post about reasons to opt for live-in dementia care rather than a care home. Our complex care and live in care services provide bespoke personal care plans for a wide range of needs.

Sova Healthcare is proudly regulated by the Care Quality Commission (CQC), the health and social care authority. The CQC have thoroughly inspected the service we provide across a number of locations across West Midlands, Yorkshire and East London.
Why Choose
Sova Healthcare
As A Home Care Provider
Sova Healthcare is widely recognised as one of the top domiciliary care agencies in the UK. With branches in Leicester, Bradford, Harrogate, Birmingham, and Redbridge, we have continued to expand our health and social care services, to help those suffering from complex illnesses or learning disabilities live a comfortable life.

All of our home care services are regulated by the Care Quality Commission and run by registered managers who ensure our domiciliary care meets and exceeds the required standards.