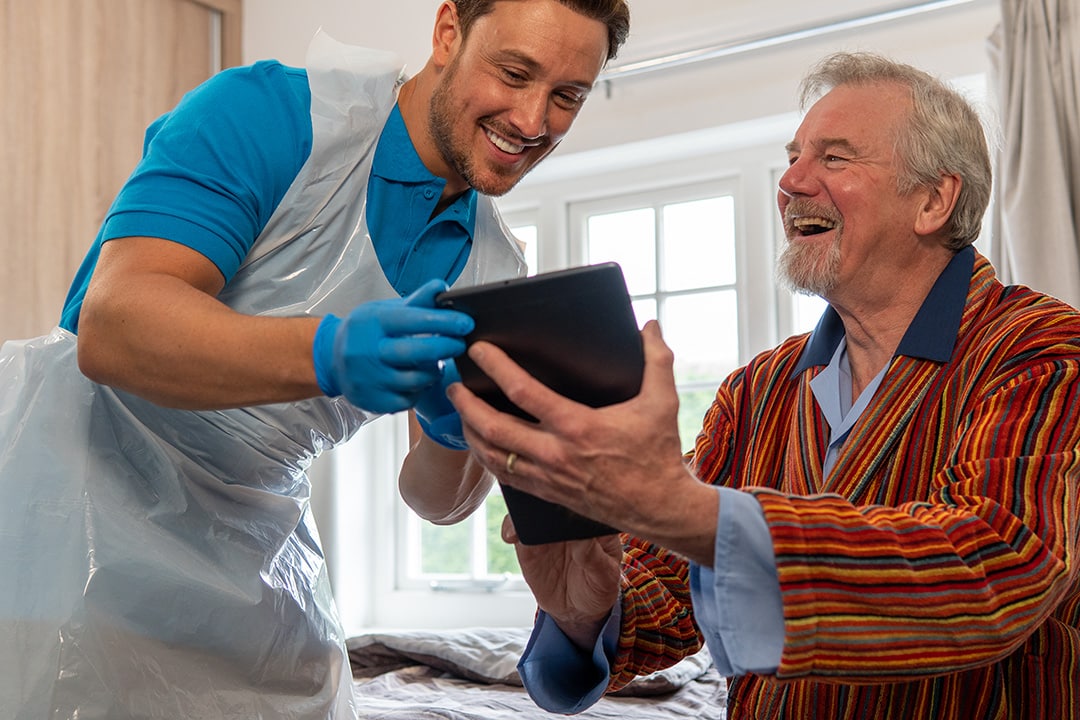 Bespoke Home Care Services
Sova Healthcare provides a wide range of home care and specialist care services tailored to the needs and requirements of each client. This includes private home care services and care within established health institutions, both of which are delivered to the highest of standards.

All of our services are accessible to an extensive clientele, from private individuals to Clinical Commission Groups, Local Authorities, Private and NHS Hospitals, Care Homes and individuals living in supported housing.
We are also one of only a handful of companies to provide a unique Appointeeship Programme, which enables us to assist vulnerable adults with their financial matters while allowing them to remain independent.
Everybody is different and has different requirements; this is why our specialist care services are always tailored to each individual. The home care assessment process that we undertake ensures that your needs are seen to as effectively as possible and that you are 100% happy with the care that you receive from us.
Your Personalised Healthcare Plan
As our healthcare is designed with each client in mind, we take a holistic approach when assembling a client's support plan. We deliver a wide range of flexible personal care plans which can be adjusted to suit your needs, even if your circumstances change. This means we are able to accommodate special requirements that many other home care providers cannot.
1. Contact The Office
When you call us with an enquiry, we will do our utmost to help you as much as we can over the phone. You may wish to find out about our services, our policies or how we personalise our care. From then, we will arrange an initial meeting with you for as soon as possible. This could be in your own home, or if you'd prefer, at one of our offices, whichever is most convenient for you.
2. Care Assessment & Support Plan
At the initial meeting we will carry out an in depth assessment of your particular needs and requirements and discuss your situation with you and your family. We will also talk in more detail about the different services we offer and which ones could help you live a more comfortable, safe and happy life. From this we will then formulate your own personalised support plan, covering every area that you feel you require support with. We will make sure we take into account everything you and your family have requested to ensure your happiness and satisfaction with the plan.
3. Confirmation
Once we have completed the support plan we will send you and your family a copy for you to look over and make any changes to if required.
4. Your Carers
Once you and your family are completely happy with the final result we will begin to assign you your personal carers. Our assigning process takes every care to match you with the right workers, taking into account your age, personality, lifestyle and beliefs. We also believe that you should have a limited amount of carers assigned to you to give you the opportunity to build strong relationships with them. We understand that nobody wants to be cared for by somebody new every week, so we take extra care in this stage of the process to ensure you only have a select few carers who are all specialised in the field relevant to your needs.
5. Your Care Commences
After these stages are completed, we will be ready to provide you with the outstanding personalised care you deserve. Please remember that your support plan will always remain flexible and if your situation changes at any time it can be adapted and your care increased or decreased.
Choosing the right home care services can be a challenging process. We understand that the prospect of having someone new in your life is a big change, which is why we will always find the right person for you.

We go the extra mile to ensure that our staff's expertise matches their character and values. Our service goes beyond a list of robotic tasks and physical assistance, enabling you to build trust and a beautiful friendship with your care-giver.

Our goal is to assign care-givers who can provide the same level of care they would to their own family. We understand that no one wants to be cared for by somebody new every week. Our team takes extra steps to ensure you only have a select few carers who are all specialised in the field that is relevant to your needs.

Find out more about our Onboarding Process.
All of our carers are fully qualified professionals with years of experience in the healthcare sector. We ensure that all staff are compliant with the Care Quality Commission (CQC) and the Disclosure Barring Service (DBS), as well as abiding by a confidentiality agreement.
We enforce these standards with regular observations, spot checks and reviews, so all our clients can be confident that they will be treated with the care and respect they deserve, at all stages of the healthcare process.
Click here to learn more about our Quality Assurance & Training.