With an increasing need for home care services in Birmingham, Sutton Coldfield and the surrounding areas, Sova Healthcare opened up offices within the West Midlands.
Sova Healthcare ®
6 Pagoda Close,
Streetly,
Birmingham
B74 2AY
Home Care Services Birmingham
With years of experience as local providers of home care and specialist care services throughout the UK, we constantly aim to provide bespoke support, based on the individual needs and requirements of our clients.
We offer an extensive range of home care services in Birmingham and the surrounding area, which include Dementia & Alzheimer's care services, domiciliary care and private live-in 24h home care services for those who require round-the-clock help. Because we always strive to put our clients first, we also provide complex care services for children or adults who have degenerative conditions or physical and learning disabilities and need at-home support.
Live In Care Services Birmingham
Our live-in 24h home care services across Birmingham consist of providing round-the-clock care and support when needed. We know that at first, it can be unsettling to introduce someone new to your loved one's home, but we always ensure we place the right carer based on matching interests, personality and care needs.

Whether they enjoy watching Birmingham City or the Birmingham Bears at the weekend, or just a general chat, we will specifically pick a carer that shares similar interests. The purpose of our live-in elderly service is not only to ensure a high quality of care, but also to let them know we are there for them whenever needed by building a strong relationship.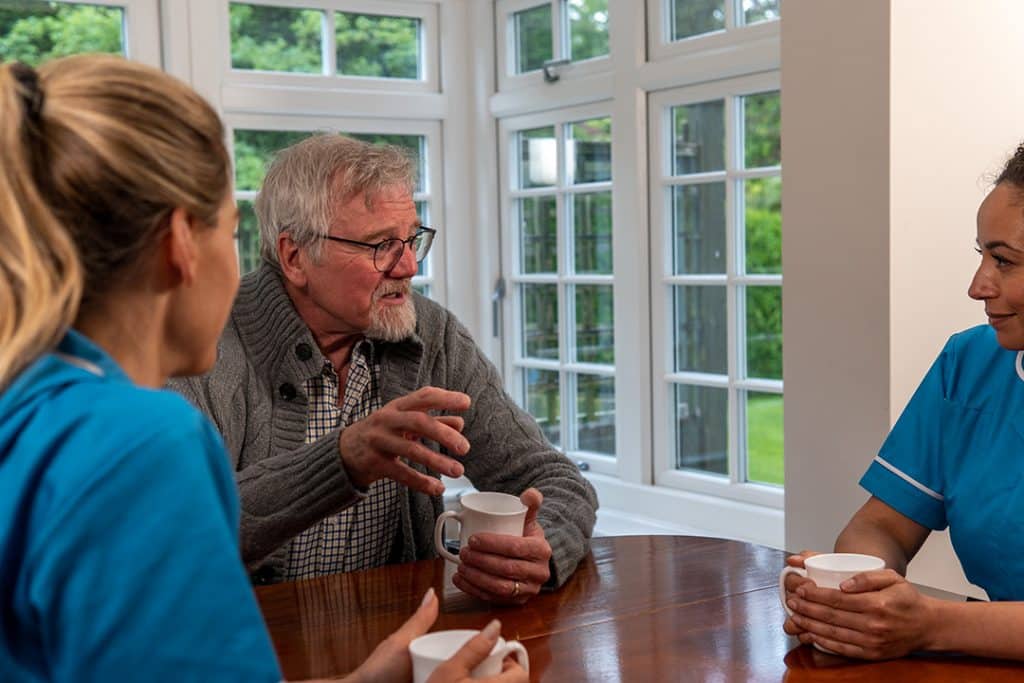 Domiciliary Care Birmingham
Our supportive domiciliary care in Birmingham, also known as home care, puts the individual at the heart of our activity. This service aims to enable your loved one to make the best independent wellbeing decisions. Our carers will only be visiting a few times a day, allowing the individual the ability to live independently whilst also having that helping hand there when needed.

We also offer palliative care for children and adults who have been diagnosed with life-threatening or terminal illnesses. Due to it being a personal part of our domiciliary service, we ensure the right care network is in place to provide the best quality of life possible for every individual.
A Caring Face for Those Living with Dementia & Alzheimer's Disease
If you or a loved one has recently been diagnosed with dementia or Alzheimer's disease or is at the stage where they are in need of constant supervision, Sova Healthcare can help.

We know how difficult it can be for those suffering from illnesses affecting memory, as well as those around them, which is why we make sure to recruit fully-trained experienced staff that have the required professional qualifications to deliver effective specialist care. As a leading specialist dementia and Alzheimer's home care service providers in Birmingham, we ensure our carers consistently offer empathetic care to those dealing with these conditions.
Our Birmingham Home Care Services
Our Birmingham Specialist Care Services
Health Screening Birmingham
Sova Healthcare also offers a complete Health Assessment to all ages which minimises the risk of heart disease, diabetes and other possible health problems. Unlike the standard NHS health check, the health screening we provide for patients across the Birmingham area isn't subject to age limit, so you can rest assured you'll get a full check regardless of how old you are.
All of our care is tailored to our clients' individual needs, requirements and preferences to ensure they remain independent and live in the comfort of their own home. We are also proud to remain one of only a handful of private contractors to offer financial assistance to our customers through our appointeeship programme. For more information on funding options, click here.
If you're based outside the West Midlands, Sova Healthcare also has offices in Leicester and Bradford.
To learn more about our personalised specialist care services in Birmingham and further discuss your needs and requirements, please get in touch with us today by completing the form at the top of this page.