Home Care Services Bradford
Sova Healthcare has been providing home care in Bradford since 2014. In the past few years, our client base has grown across Leeds and West Yorkshire with two other branches opening in Birmingham and Leicester. More recently, we've opened up branches in West and North Yorkshire, such as Halifax and Harrogate.
Sova Healthcare ® 
1st Floor, 18 East Parade, Bradford
BD1 5EE
Our tailored range of assisted living services and home care in Bradford provides more than the basic home care services. We take the time to understand everyone's individual needs and requirements so we can provide customised home care services in Bradford and surrounding areas.. We know that choosing the right care service depends on a number of factors, so we'll answer all your questions to ensure we provide you with the right solution.
We understand the complexities of conditions such as Alzheimer's and Dementia so we ensure our specialist care services are bespoke to our clients' needs. Our clients all complete an initial health screening process so we can work with you to identify the necessary requirements to improve your care while maintaining your independence, which is why we provide a care strategy and assign our carers on a case by case basis.
We guarantee quality healthcare, so we'll always have your best interests at heart and take into account your personal circumstances. We only recruit staff that have the experience and qualifications to carry out their job in a professional and effective manner. Our main goal is to ensure that we create a secure environment for our clients, where they feel at ease. We're known to take a flexible approach which enables us to provide support plans that can be altered to suit any unforeseen circumstances.
Live In Care Services Bradford
Our live-in 24h home care in Bradford consists of providing round-the-clock care and support when needed. Here at Sova, we understand it can be daunting at first to introduce someone into your loved ones home but by matching you with a carer based on personality and common interests, we can assure that they will be provided with the best care possible.
Whether they enjoy watching the local football team, going for walks or just like a general chit-chat, we are here to pick a carer that shares this passion and is right for your loved ones' personalised home care in Bradford.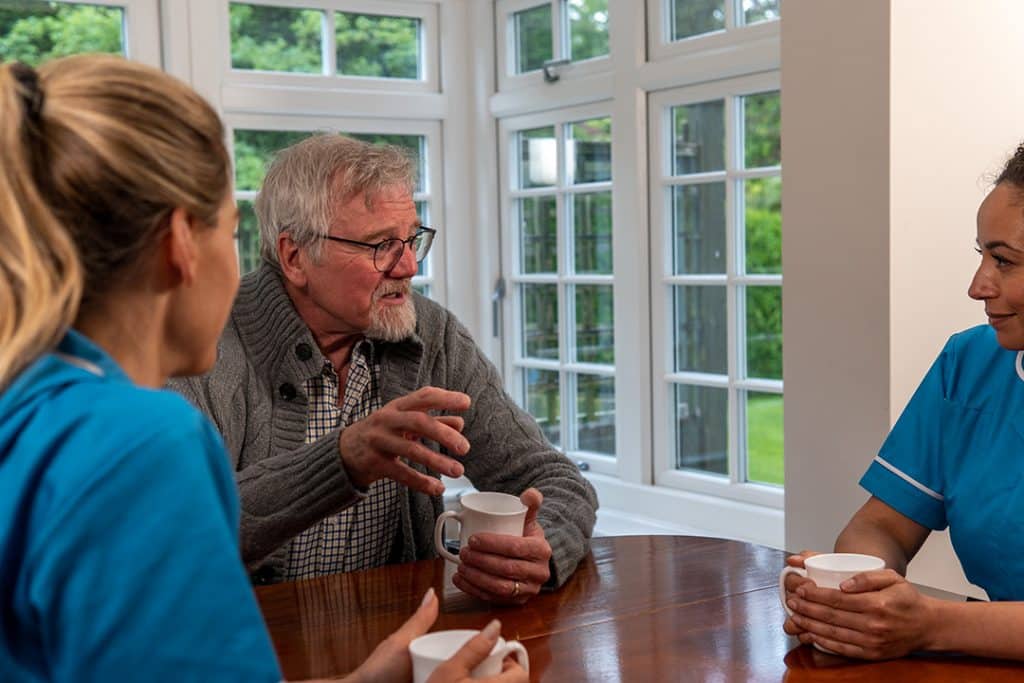 Domiciliary Care Services In Bradford
Our supportive domiciliary care services in Bradford, also known as home care services, puts the individual at the heart of our activity. Our carers will visit a few times a day, allowing the individual the ability to live independently whilst also having that helping hand there when needed. Our home care services aim to enable your loved one to make the best independent well-being decisions.
Health Screening Bradford
We also offer health screening in Bradford to all our clientele, during the appointment we will ask you a few questions about your lifestyle and medical history before taking a full assessment. This is vital for minimising the risk of heart disease, diabetes and other common health problems. Unlike the standard NHS Health Screening which is only limited to people aged 40 to 74, Sova Healthcare provides health checks with no age limit. This is to ensure that any prospective health irregularities and unidentified underlying conditions are prevented or caught and treated in their early stages.
Our Home Care Services Bradford

Our Specialist Care Services Bradford

Sova Healthcare is proud to be one of the few home care in Bradford providers that offers financial assistance to our customers via our appointeeship programme. Additionally, you can find out more about funding options available by clicking here.
To learn more about our private home care services in Bradford and further discuss your needs and requirements, please get in touch with us today by completing the form above.